G'day mates!
This is my first post to my blog after returning from Sydney, capital of the land down under. I spent a total of seven days down there with my boyfriend. He was there for duty travel while I lived a tai-tai lifestyle of waking up late, spas at the hotel and shopping shopping shopping!
For the first two days, we visited the requisite tourist spots like Bondi Beach and the Blue Mountains. These two are definitely must-visit spots in Sydney-if you are really squeezed for time, I highly recommend these two spots, especially the latter! The Blue Mountain's beauty is unparalleled and it was a comfortable hike even though it's a winter month in Sydney. Bondi Beach is of course a good place to soak in the Aussie beach culture though I guess there were not too many people on the beach in June as it was winter. On days when the Boyfriend had to go to work, we did our sight-seeing in the evening, making it to the Sydney Opera house, Darling Harbour and the Rocks to name a few.
So what else could I do during the day when left to my own devices? One word: SHOPPING.
I was probably very lucky to be in Sydney last week, as it was the start of the sales! Almost every store was having their winter sales and I lived in a good locale - my hotel was located in the city center along Elizabeth/Castlereagh Street.
For all you fashionistas, this is an important street to remember, as well as Market Street that intersects it. These three streets, together with Pitt Street, forms what I would term the Sacred Square of Orgasmic Sydney Shopping!
Shop here for orgasmic sydney shopping!!
For those who are into high-end fashion labels like Hermes, Chanel, Gucci, Louis Vuitton, etc, Castlereagh Street is sheer heaven. This street is where all the high-end luxury houses are located, with the exception of Armani, which is located on Elizabeth Street. Remember to get a tax invoice from each store should you spend more than AUD$300 there (and how difficult is that with these labels?) to qualify for the Australian TRS (Tourist Refund Scheme) where you get the goods and services tax credited back to you.
We went into the Chanel store to purchase my birthday present. I must write this encounter down as I was extrememly unhappy with the level of service which I received in Chanel Sydney. First of all, the SA who was keeping the bag for me had gone off for the day and she obviously had not left any instructions for her colleagues as to how to get my order should I turn up after she left. For the record, I did turn up on the agreed day as promised and I was surprised that she had already left for the day. But what really got me was the attitude of the first counter staff that I spoke to down there. First of all she had NO IDEA of the cerf tote that I requested for, even thinking that I was asking for the SURF tote instead. Even when I spelled out the name for her, she had the most unintelligent and uncomprehending look on her face. I wondered if she understood English? To add salt to the injury, she certainly didn't look contrite nor cared that I, as a customer had better knowledge of the products in Chanel than her. Luckily a more experienced and poised customer associate took over and was able to locate the cerf tote for me.
On to happier stuff- department store David Jones was heaven-sent! Down there, I managed to pick up Aussie labels like Sass&Bide and Willow at a fraction of the prices availabe online at
Net-a-porter
! Do note, however that I have yet to locate any website selling Willow. I love her designs and how it draps so flatteringly on the female body. I bought a heavy sequinned type which felt like armour but it was just so beautiful and unique!
Damage at David Jones:
Willow Wish cami - I have it in plum.
Managed to net this gorgeous top from Sass&Bide - woo hoo! ^-^


Sass&Bide stand-aside jeans
Be sure to check out these aussie labels and other favourites like Collette Dinnigan, Alannah Hill, Lisa Ho, etc when you are there!

Further along the other shopping centres, there were also perennial Aussie high-street favourites like David Lawrence, Witchery, Kookai and trendy, budget-conscious stores like Sportsgirl, Supre and Dotti. I just went wild inside and bought so many shrugs, tubes, tank tops and flirty summer skirts! The salesgirls there were really cute and nice, especially the girls in the Supre store along Pitt street!

A portion of my loot: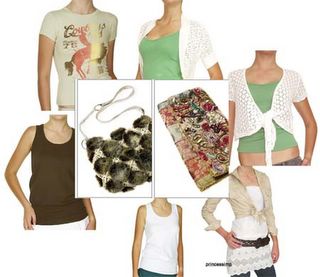 Montage composed of pictures from Supre.com.au and Sportsgirl.com.au
On top of these, I also splurged on tiered skirts, retro giant sunglasses, chunky boho jewellery and of course, Tim Tams! Only in Australia can you find so many flavours!

Besides the city centre, check out the shops along Oxford street - there are just so many interesting ones! You can find a repeat of some of the shops in the city centre there as well as shops devoted solely to Alannah Hill and Lisa Ho. Interestingly along King Street, I found a small shop called Como which stocks a very small selection of CoStume National. Predictably, I still was unable to find the CoStume National belt which I had been hunting for a really long time. Anyone has any idea if this label is carried in Singapore?

Walking down the entire length of Oxford Street will lead you to Bondi Junction which is another conglomeration of more shops and malls. This is recommended only for the die-hards as it is really easier to take the bus half-way down Oxford Street to arrive at Bondi Junction instead. There is another David Jones at Bondi Junction, but there is a much better selection at the flagship store at Market Street. There are also more surf wear stores at Bondi Junction, presumably because of its proximity to Bondi Beach.

There are so many more interesting shops for you to explore in Sydney. I only stayed in the northern area of Sydney due to a time shortage, but hopefully what was written here would give a meaningful representation of the shopping experience there. There are also Sydney shopping "landmarks" like the Queen Victoria Building and the Strand Arcade which were not mentioned in this article as enough coverage has been given to them.

I had great fun shopping in Sydney. Next target : Melbourne ^-^
(I can hear my boyfriend faint.)