You'll have to be a Hilton to afford everything you see on the runways.
But what's a mere mortal like most of us to do? That's when we turn to most high street labels to scour for our runway knock-offs. I have always believed that it is easier to get away by paying less for clothes than it is for shoes and bags.
Favourite high street haunts of mine include Zara, Mango, Topshop and Warehouse. That's pretty much the only places that I shop in Singapore anyway! But I must admit, the tank tops from Topshop are a steal and comparable in quality to those from C&C California or Juicy Couture.
These high street stores really have a high inventory turn-over and I am surprised by how aggressively they keep up with what's on the runway for S/S 2005:
1.Wallpaper chic by Prada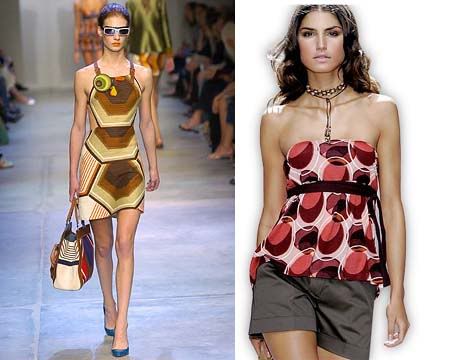 Given how for S/S, almost all designers have turned back to the 70s' for that carefree, bohemian look, it was only a matter of time before the stronger, graphical elements of that period appeared in this eclectic collection by Prada.
Similarly, the ever quirky and feel-happy label Marni also had its share of high-street knock-offs. Note the skirt and shrug combo in the picture below: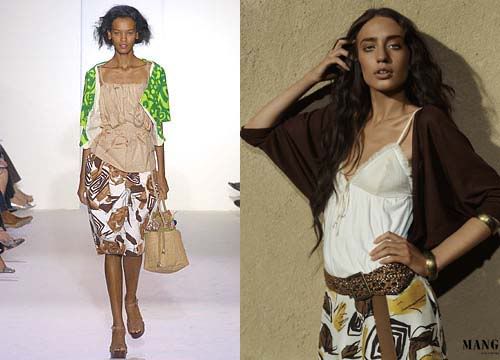 This easily translates into a lot of graphical blouses and skirts being churned out by the high street labels. I feel that you have to be careful with the type of print that you buy for this trend, least you end up looking like you cut up the curtains for your dress. Frankly, my dear, it might have worked for Scarlett, but that does not mean everyone can pull it off.
2.The pirate-gypsy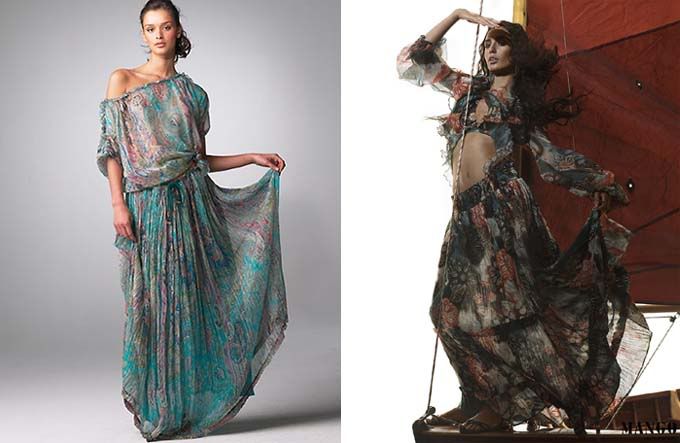 When I first saw this poster by Spanish brand Mango, all I could of were two things, "Gaultier and Hermes". This style obviously borrowed heavily from the pirate-gypsies which Jean-Paul Gaultier had sent down the walkway for his S/S for the house of Hermes. Surprisingly I couldn't find any pictures of the runway show for Hermes on style.com , but I found a suprisingly similiar interpretation of gypsy chic in a dress by Etro. Seems like even for high-end labels, pollination of ideas are not uncommon and most collections do debut every season with a few common trends throughout.
Here's a picture of the ever-luminous Cate Blanchett in Hermes at the French premiere of "The Aviator" sometime back. Note the similiar high street copy next to it.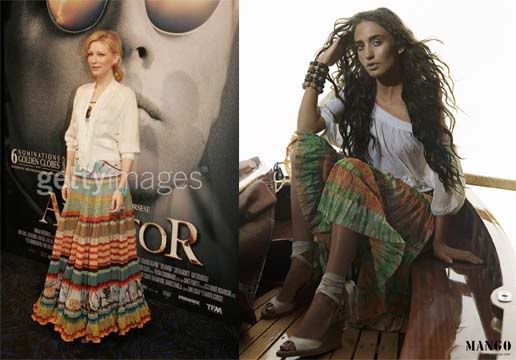 LEFT: Cate Blanchett at the French premiere of Aviator (Getty images); RIGHT:
Mango.com
I suppose credit shouldn't be given to Gaultier alone for the emergence of the pirate-gypsy this season. A lot of fashion houses have debuted their clothes with volume, volume and more volume (think - Spanish flamenco skirts) for this summer. This translates into very weareable clothing for the average female. Think loose, flowy comfortable clothing, preferably white (a break from last spring's palette of vibrant colours), something like the Timotei girl. Do you still remember those commercials?
3. The Chloe girl
No brand probably has more of its looks re-appearing in high street translations than Chloe. Phobe Philo has managed to capture the female psyche in her collections, she has an uncanny knack for knowing what would appeal to woman and what won't. Ironically, some have even labelled her the female Marc Jacobs.
The loose feminine lines in her clothes shows that comfort need not be compromised for style. She also has the uncanny ability of making bermudas appear formal with her tuxedo shirts, showing us that bermudas need not be relegated to beaches only.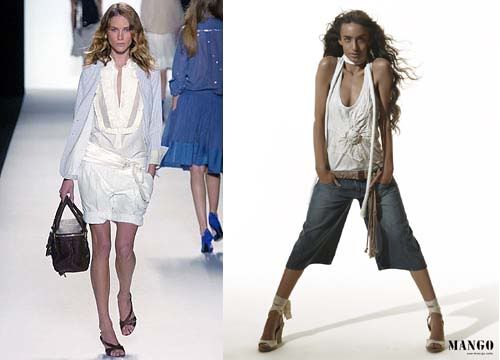 LEFT: Chloe S/S05 (style.com); RIGHT: Mango.com
Fashion is also taking a break from body conscious clothing this season, to more kinder cuts in which moving and eating is a breeze: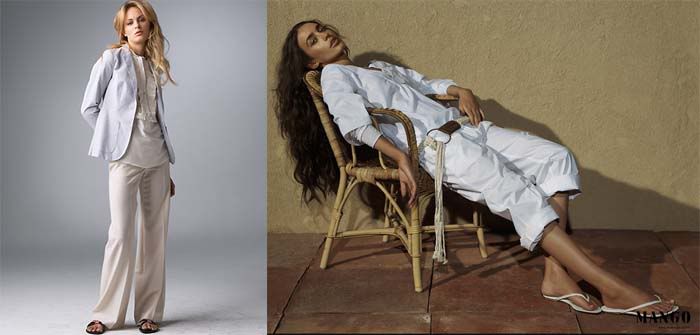 What about a pretty dress in this season's "in" colour, blue?
Lastly, I could not resist putting the next picture down, I was struck by how similiar in design the skirt was to it high-street copy. Do observe carefully: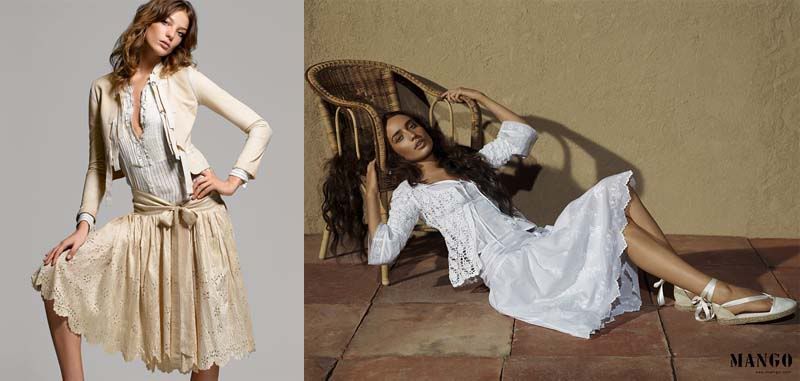 These are just some of the main trends which I have choose to highlight for the S/S 2005. Please note that I am not saying that high-street copies are bad, in fact I am grateful that they are around because most of them offer runway pieces at affordable pieces to the average consumer. In fact, the quality in some of these high street labels are really good and it really makes you wonder if it is worthwhile to splurge so much on the high-end labels.
Trends come and go and fashion moves in cycles. For the trend-conscious consumer, the high street labels are a very economical and sensible way to keep up with trends.
But I believe that the high-end labels will always be around, to offer us inspiration, as well as let most people have something to aspire to.