I have always been crazy over belts.
Next to bags, they are probably my second-favourite accessory. I have always felt that belts can give a different feel to an outfit and give you more bang for your bucks. A loose mini-dress, when worn with a thick hipster belt and a pair of distressed skinny jeans, can instantly take on a different look and feel. Or you can even take a belt to a maxi-skirt (see
post
below) to wear it as a dress.
A while back, there was a mini-furore over the Old Man River belt which was sold at Kitson after a few (the usual!) celebrities were spotted wearing them.
Us Weekly scan : Celebs with their Old Man River belts.
However I felt that the crystal encrusted belts were probably a little too bling for me. At USD$250 dollars per piece, I felt that they were too much to pay for a gimmicky piece. It didn't help too that the celebs that were touting them certainly did not fit my ideal of any style icons.
Belts have been slowly heating up for the past few seasons. They lend a semblence of structure to this season's loose and flowing bohemian look. The House of Yves Saint Laurent was particularly taken with this look and sent several models down the runway for their S/S 2005 RTW shows with their narrow waists elegantly clinched with a wide belt.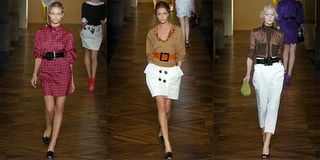 This trend continues into YSL Rive Gauche's F/W 2005 RTW line: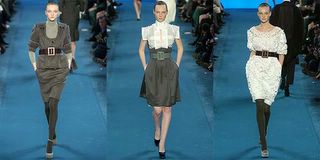 At under USD$300 a piece, belts are arguebly the one of the "cheapest" pieces in the YSL collection.
Being a jeans-and-tiered gypsy skirt girl, I prefer my belts to ride on my hips or sit low on the waist. When it comes to getting a belt, one is easily spoilt for choice. There are options galore on the Net. It was while belt-shopping online that I chanced upon the British accessory brand
Jocasi
.
I found these belts at my favourite online website,
Blaec
. Now I have read all the propaganda about this UK brand, about how wonderful they smell, the baby-soft Indonesian leather that they use to produce their belts and bags and what a cult favourite they are with UK and across the pond, US celebs. Such is their clout that Topshop, the premier UK high-street chain store, carries their product range in their flagship store in Oxford circus.
I must admit that I do like the classic and rock-n-roll sensibilities in their design. I guess that the way Blaec put together their highly-lauded outfits, usually with a Jocasi belt as a finishing accent also made these belts more attractive to me. I had no chance to sniff and touch the highly-lauded fragrant and supple leather as this brand is not available in Singapore. Costing USD$100 - USD$130 a piece, I must admit that similiar pieces can also be found, at cheaper prices elsewhere. However, the attraction had started and giving into temption, I ordered one of their famous styles, the Moon belt.
I received this belt last week and I must say that Jocasi does live up to its hype. The leather is really supple and baby-soft and I love the way the belt curves and sits comfortably on my hips. The belt is actually a much richer brown colour than shown in the picture. The design is classic and I can see it being worn across several seasons. Best of all, it smells heavenly! I profess, I am now a Jocasi-convert!
There are several more styles available at Blaec, as well as another website,
LuvCharlie
for those who are not living in London. Currently, these two sites are the only ones that carry Jocasi.
If you are looking for a belt with just that little bit of edge and want a design that last, I think this brand may just be what you are looking for.
I am loving my Moon belt so much now, that I am tempted to order other funky designs from this brand as well!