So, it's been a couple of weeks since my last post.
Well I am now back in Singapore and I am feeling pretty bored. During my hiatus, I have been to San Francisco, which is simply one of the most beautiful cities in the world.
I was looking forward to visiting the first H&M outlet on the West Coast when I was there but damn, it would not be open till Fall 2005.
I bought myself three pairs of flip-flops(!) when I was in SF. I actually bought my Chloe metallic bow flats along, but these babies were giving me severe blisters after sometime in Castro.
To digress a little, I flew in love with my Chloe flats ever since I saw them on Nicole Richie :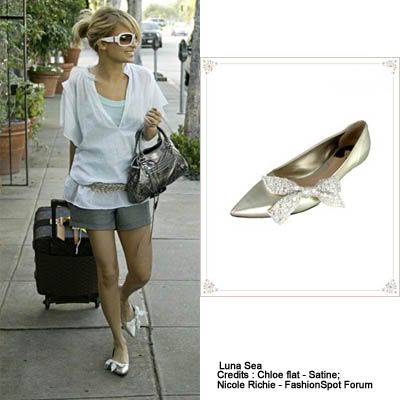 It took me a little while, but I finally found them at one of LA's greatest boutique,
Satine
!
I was really lucky because that was the last pair in my size. Their website is really wonderful too, though you have to call sometimes if you are ordering the popular items as their online inventory may not actually tally with what they have on hand.
Talking about Nicole Richie, I have been in awe about her recent transformations. I didn't like her, but I must admit she is getting better. However I still have my doubts about her personality.
Well, more on Nicole's style in my future posts. I also fell in a love with a FreePeople dress in an Urban Outfitters store there. Funny thing was, the dress was suppose to be a web exclusive which would not be available in any of their stores. But the zip on that dress was broken. I eventually ended up ordering the dress online from the
Free People website
:
It's gorgeous, glossamer-light and "vintage-y". It's definitely a very pretty piece for summer and I can see myself wearing it with slouchy boots or layering it with sheer colour tanks.