As we slowly move towards summer, a lot of stores are now discounting their fall/winter collections heavily to clear stock. In fact Spring sales are long over, and I think now is the best time to pick up a pair of boots, just before the summer collection arrives in stores.
By boots, I certainly do not mean the fads of past F/W seasons like Uggs or Mukluks. These boots age fast and it is better now to invest in a pair of classic boots, while they are cheap. A finely made pair of classic boots can be worn for many seasons.
One of my best finds on the web were these two pairs of boots from
UrbanOutfitters
: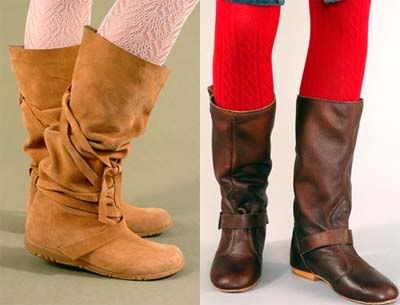 (LEFT: Jeffrey Campbell Suede Slouchy Boot, $70. RIGHT: Leather Engineer Boot, $40; all pictures from UrbanOutfitters)
The slouchy boots on the left are similar to a pair seen in the Imitation of Christ F/W 2005 RTW collection: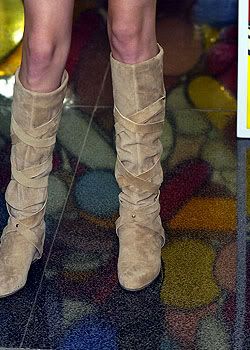 Though the pret-a-porter version is definitely of a better make, the boots from UrbanOutfitters are undeniably a good find. I can see these boots being worn with this summer's flirty dresses, especially with the Free people dress which I purchased. These boots would also look cute with denim minis, tiered skirts or can be worn tucked into jeans. Do drop by my StyleDiary webpage to see what outfits I can cook up with these boots
I got the other pair of boots as I like its structured feel. They can be worn with leggings under a mini, plus the price made it very attractive. For a girl who lives in Singapore, a hot humid country with no four seasons, the price of these boots are about just right for me. Since I do travel occasionally, I can also wear them overseas. I would consider their styling to be rather classic, so these two pairs would last.
For pricier(and better made) boots, gorgeous options abound on the web. I found this pair of Fiorentini & Baker Eternity Washed leather boots in tan: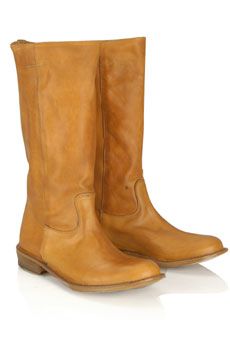 Fiorentini & Baker Eternity washed leather boots in caramel, $511, net-a-porter.com
Timeless and classic, this is a style that should age nicely.
How about this pair of sleek black boots from Jimmy Choo?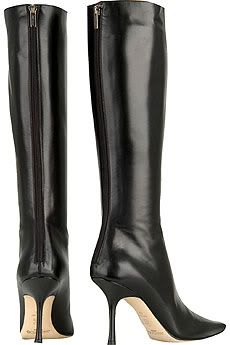 Jimmy Choo peony leather boots, $850, net-a-porter.com
These pair of boots are a warerobe staple and I would definitely get these if I weren't living in Singapore. I just cannot justify paying so much for a pair of boots (though so very gorgeous) which I know I won't be able to wear often in sunny Singapore.
For novelty value, how about this pair of cowboy boots from Anna Sui?
Anna Sui cowboy boots, $704, net-a-porter.com
These pair of boots are pretty but I am not too sure if they can last beyond two seasons. Cowboy boots have been trendy for almost a year now, so I wouldn't buy another pair right now. The trend is still hot due to the likes of the Olsen twins and Sienna Miller, but it is probably time for it to start tapering off.
Choose slouchy or brown boots for summer time dressing. These styles would go well with the bohemian-gypsy trend that is so hot this summer.