Girls in Singapore just can't get enough of this skin-care brand
SKII
.
I have been using SKII for over 6 months now, and I must say that this brand does live up to its hype. It's magic ingredient is Pitera, which is a yeast derivative. Pitera supposedly accelerates the monthly renewal cycle of your skin to give you the conveted, signature glowing SKII complexion.
Here's the list of SKII products which I have incorporated into my skincare regime:
1. Facial Treatment Essence - This is really the star of the entire SKII range and the most enduring of the entire product line.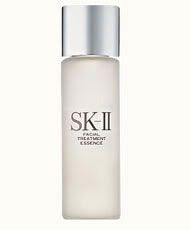 I like to use this after my toner and before my moisturizer to drench my skin in the goodness of Pitera. This essence is suppose to contain 90% Pitera. It smells a little like yeast upon application, but this was my first product and introduction into the SKII range. I find that this essence helps to control sebum production and my skin does look brighter after some time.
2. Signs Treatment - I moved onto a richer moisturizer after my laugh lines and the lines on my forehead became more apparent. The turning point came when my colleagues pointed out my wrinkles to me...I knew I had to do something then!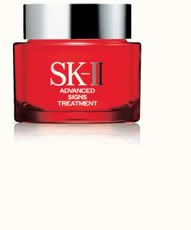 I like to use this cream as both a night cream and a day cream (layered with sunblock for the day). It's quickly absorbed by the skin and pores and fines lines do seem diminished after sometime. At least, I don't get teased about my "wrinkles" anymore!
3. Facial Treatment Mask
I use this as a weekly treat for my skin. It's recommended to use this sheet mask continously for two weeks to get crystal clear perfect skin.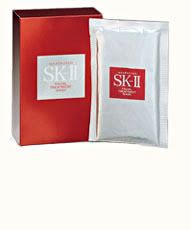 I think that's way too extravagant, but I guess I'll probably try that when I am getting married.
The mask really peps up my complexion - skin glows and make-up sits better on the skin after application. Plus the mask comes soaked in a thick Pitera substrate which I like to use as a serum in my regime. One packet of substrate lasts me for up to a week.
I am lucky to get these products at a discount as my sister works in an airline.
I used to have problem skin, but after using these products I don't break out that often anymore.
I sure hope I am achieving that beautiful glowing complexion as espoused by SKII in all their commercials!
Photo credits : All pictures from SKII website